Gavias Blockbuider URLA Resources
Redesigned URLA Required for all New Applications - March 2021
As of March 1, 2021, all new applications will automatically default to the redesigned URLA.  The URLA Type data point in the worksheet will allow specification of the version of the URLA received: Revised2009 or Effective2021.  Worksheets which do not indicate an URLA type will default to the Redeisgned URLA based on the application date. 
DocMagic Milestones:
March 2021 - the Redesigned URLA becomes the default loan application version in DocMagic
February 2021 - DocMagic releases updated Redesigned URLA for faster processing times (avg 2.07 sec)
August 2020 - First client use in production of the Redesigned URLA
April 2020 - DocMagic Online updated to include January 2020 revisions for Redesigned URLA
February 2020 - Redesigned URLA with January 2020 revisions available for testing
June 2019 - DocMagic releases revised DocMagic Online interface to support new data fields for the Redesigned URLA
April 2019 - DocMagic hosts Redesigned URLA Webinar 
February 2019 - DocMagic users are able to test the new URLA forms 
February 2019 - DocMagic's Chief Compliance Officer and Richard Horn provide URLA Webinar through October Research
January 2019 - DocMagic completes data mapping in support of MISMO data conveyance, published to all integration partners
November 2018 - DocMagic begins updates to DocMagic Online screens (DMO) in support of new URLA fields
August 2018 - DocMagic completes data analysis and updated application design
June 2018 - DocMagic completes gap analysis of supported data fields/additions to new URLA
December 2017 - DocMagic adds new content and dynamic layout features present on the redesigned URLA
August 2017 - DocMagic completes layout of the redesigned URLA
Fannie Mae Revised Timeline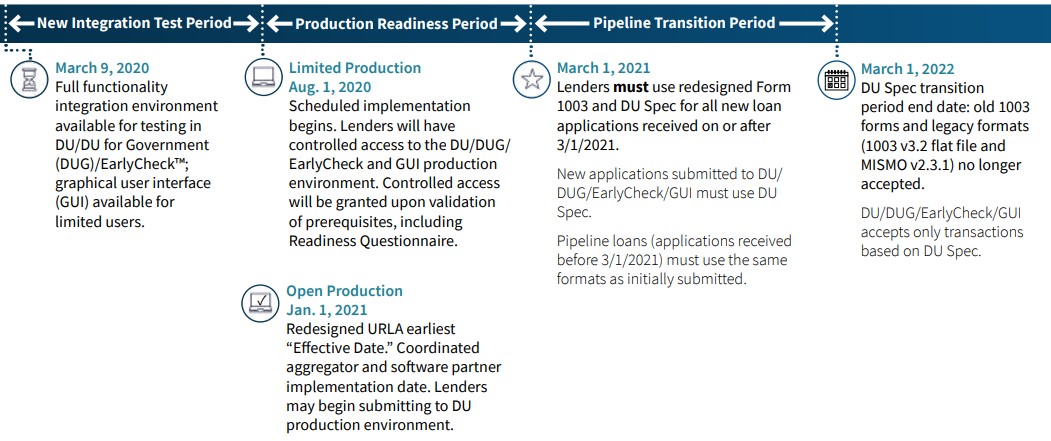 Freddie Mac Revised Timeline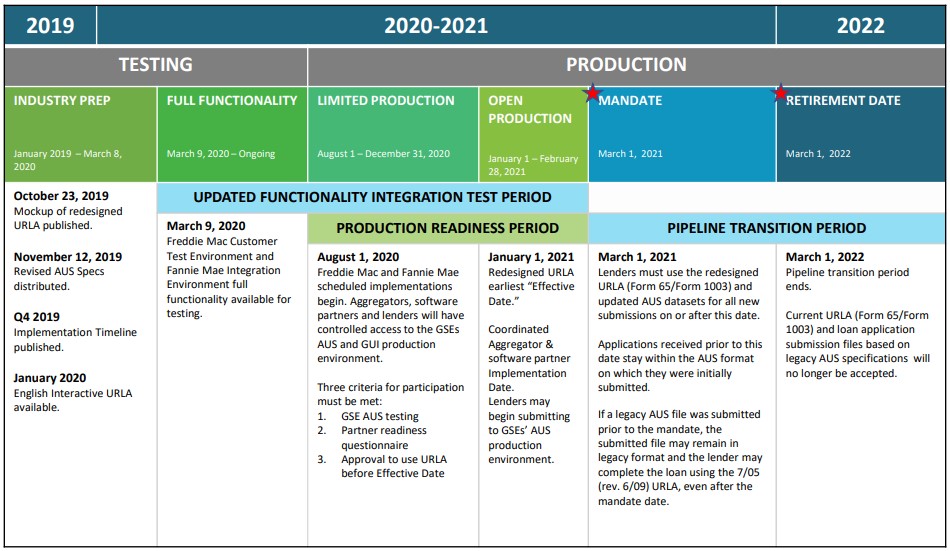 Links and Resources
Form 1003 Samples (click and download)
Additional Resources/Articles
Newsletter Articles
The Redesigned URLA
The URLA has been updated to include some new (and removing some old) information borrowers must furnish in the application process, in the aim of providing greater clarity and easier use during this time.
The URLA accomplishes this by organizing information borrowers must provide, acknowledge, and agree to, compared to information the lender must collect and verify during processing and underwriting of the loan.
In addition, the GSEs have updated sections of the URLA to help lenders increase turn-around times by capturing more complete application information from borrowers by bolstering certain areas of the application such as income verification, military service, assets and liabilities, and more in depth property information.
And remember to prepare by:
Identifying any data you do not currently collect
Subscribe to DocMagic's mailing list
Check DocMagic's website for updates
Compliance Edge Premium Subscription
The Compliance Edge, DocMagic's premium subscription resource, offers the most up-to-date compliance information available from legal analysis to the latest mortgage industry news. The latest mortgage industry laws and regulations are organized into actionable information designed to help you stay on top of compliance. The Compliance Edge is a powerful resource that Premium Subscribers rely on to reduce compliance risk, lower costs and increase operational efficiencies.
Subscribe Now!
The right services
We can help you to transform your processes through the implementation and management of smart solutions, apps, and technology.